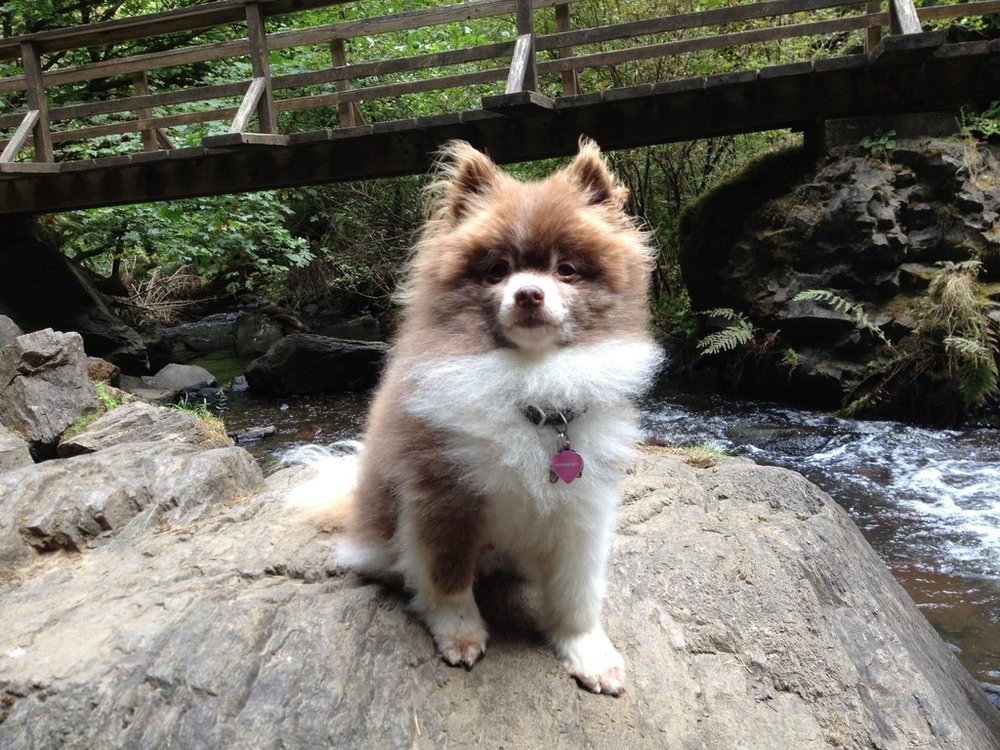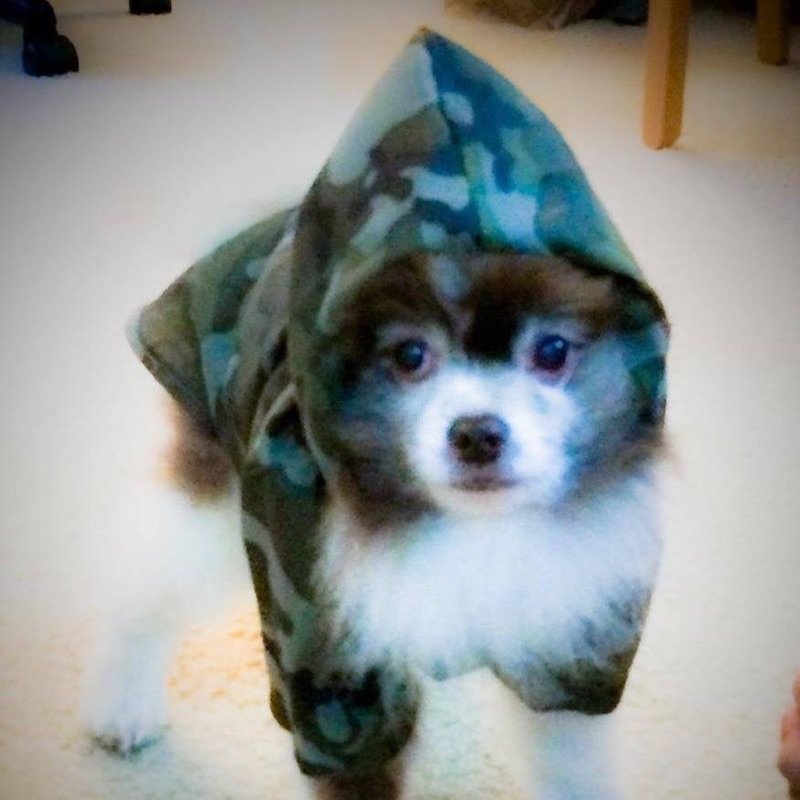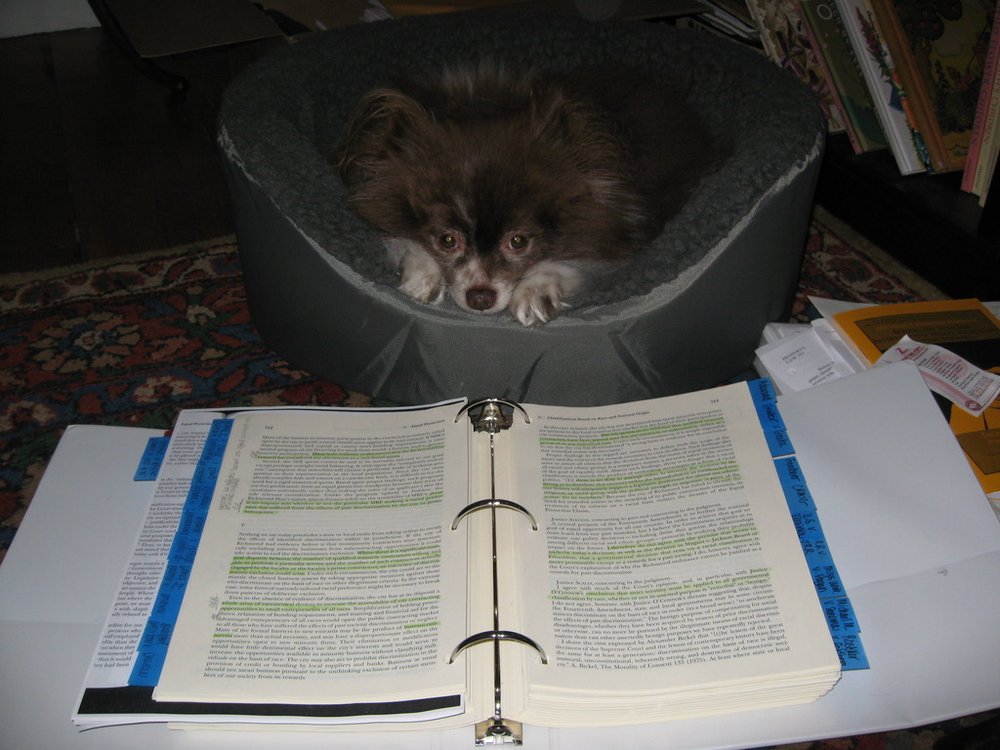 Obituary of Brownie Men
No memory shall erase you from the memory of time.
—Virgil's Aeneid, Book IX

On Friday, June 10, 2016, Brownie passed away having lived a full and happy life with a large and loving circle of family, friends, and adoring admirers.
Brownie Men, otherwise known as "Cozy Bear," "Papá," "Little Kingpin," "B.Boy", "My Little Ham Hock," "Papa Bear," "Puffy Pufferson," "Mr. Puffinstuff," "Mr. Puffypants," "Ah K'map, (little fatty), "Gkoan Ch'kai" (puppy or baby dog), and "Mama's Little Buffalo" was adopted by Phat Men (hence his last name) and Try Lim in the spring of 2002 from a Washington County breeder of Pomeranians. Smaller than a hamster when he was brought home, Brownie was instantly loved and adored by his adoptive family and everybody who experienced the joy of meeting him. Living up to his moniker as a "party color" Pom, Brownie was an intrepid and feisty member of his family from his first days, whether curiously tracking Valerie's baby rabbit around the Lim duplex off 185th Street in Aloha or standing on his hind legs straining to climb the stairs so that he could join Sophorn, Engly and Baby, his beloved human siblings, upstairs.
In late 2003, Brownie moved into Khloth and Katrina's new home in the Montavilla neighborhood of Portland. It was there that he would daily greet his new caretakers with enthusiastic circle running when they returned home—a habit that lasted for the rest of his days. He also enjoyed late night revelry traipsing about the neighborhood in crazed pursuit of cats who had dared to enter his backyard while he was enjoying a potty break. It was after one such interlude, during which Katrina had called in reinforcements and scoured the neighborhood, that she found Brownie calmly lounging under a storefront awning on busy Stark Street watching the traffic speed by. When his panicked mother approached him, he looked up with eyes that seemed to say, "Oh, hi. Where have you been?" It wasn't long after this, in 2006, when Katrina and Brownie moved into their new home near the Grotto—complete with a fully fenced backyard! Brownie loved having his own backyard to manage and protect from feral cats and the occasional raccoon or opossum. In this home, Brownie regularly hosted Khloth for visits, enjoyed after work snacks of grapes and carrots on the back stoop with Katrina, and became well known to his neighbors for his teddy bear features and prancing walks about the neighborhood and through the grounds of the Grotto.
Brownie was renowned for his indomitable spirit and zest for life, as well as his intelligent and inquisitive cock of the head that seemed to say "hmm, that's interesting," and his uncanny ability to guide, instruct and bend his caretakers to his will. Nobody was spared
Brownie's "paw, paw, paw" followed by prolonged and withering stares if one made the mistake of misunderstanding, ignoring, or contradicting his sometimes opaque desires. In spite of his compact size and puffy, lap dog appearance, Brownie loved new adventures and being outdoors. He led the pack on long hikes and walks, nibbling on grass (see video) and ferreting out rotting bones and other putrid foods. He also took great pleasure in grooming himself (see video), angrily putting cats and squirrels in their places (see video), and any opportunity to ride along with his family in the car.
In this spirit of adventure, in 2008, he and Katrina moved to California to begin law school. They traded their tranquil home in Portland for the syringe-littered mean streets of West Oakland where late night gun fire and unsupervised pit bulls wandering the streets were the norm. Brownie took these changes in stride and gleefully responded with eager licks and curiosity when the local flavor who controlled "traffic" on the corner outside Captain's Liquor praised his many charms while he and Katrina walked about the neighborhood.
Whether accompanying Katrina during an endless stream of late night study sessions during her first year or romping through the halls of Boalt Hall in her second year, Brownie was a source of great comfort, encouragement, and unconditional love during law school. Always happy to see her and insistent that they take walks and enjoy their meals together no matter how much more homework remained, Brownie provided Katrina a much needed reminder of what really mattered. He would later do the same for Khloth during his time in medical and pharmacy school. While away, Brownie received a number of visits from Khloth and other admirers from afar. He also became a skilled traveler, accompanying Katrina on flights back to Oregon to visit family and friends. Although Brownie's health ultimately prevented him from joining Katrina in Cambodia, he was raised in the Cambodian culture from early in life and late in life became a prolific consumer of rice, just as any true Cambodian is.
While Katrina interned in Cambodia during the summer of 2009, Brownie deeply enjoyed the loving care of his great uncle Jim and endless opportunities for exploration of Jim's secluded nature compound outside Amboy, Washington. The next summer and for the four years that followed, Brownie developed a strong bond with his grandma, who provided him tireless, expert, and loving care as he faced a number of health scares and chronic medical conditions with his usual aplomb, spunk, and bravery.
Even in his last years, as Brownie struggled with the worsening symptoms of a heart murmur, he was quick to block the door and make his presence known through barks and penetrating stares if anyone tried to escape the house without him. In the spring and summer months, he was happy to wait in the yard or on the seat of the car to make sure that he was not left behind. He also enjoyed getting to know, nipping at, and participating in activities (from a safe distance) with his youngest cousins Wylie and Sami, just as he had years earlier enjoyed herding his Pomeranian cousins, Gina and Irene, and his human cousins, Chevin, Chivan, Orkida and Melany during frequent visits to his Cambodian side of the family. Above all else, Brownie was a people-dog. He loved meeting new humans and often lavished them with kisses as a way of making friends.
Too many individuals to name are owed a tremendous debt of gratitude for their participation in Brownie's life. Brownie enjoyed a large network of friends, family, and admirers who showered him with love, kindness, and adoration every day that he was with us. Katrina most especially wishes to acknowledge Khloth's mother, Phat Men, whose insistence on having a companion pet brought Brownie into our lives nearly 15 years ago, and Katrina's mother, Patricia Horne, who took such thoughtful care of Brownie over the final 5 years of his life and truly appreciated and loved Brownie as one of her grandchildren. Sadie, he canine companion in his final years, was a much appreciated source of stimulation and camaraderie for Brownie. And, finally, Katrina thanks Khloth, who showed up at our then new house one day and insisted, over her reservations, that Brownie wasn't just visiting, but was there to stay. Khloth's love and financial support of Brownie, his constant concern for his well-being, grooming and hygiene, and his continuing and constant involvement in Brownie's life long after he and Katrina ceased to share a home illuminates the depth of his character and his love for Brownie.
The greatest comfort in the wake of Brownie's passing is knowing that he led a charmed life in which he was treasured, admired, and doted on as the eternal "baby" of a large and loving family. As he was often told, "everybody loves you, Brownie."
A memorial service with light refreshments will be held for Brownie at his last home in Corbett, Oregon on Saturday, July 2nd at 2:00 p.m. Please RSVP to Katrina if you plan to attend.
To plant a beautiful memorial tree in memory of Brownie Men, please visit our Tree Store
A Memorial Tree was planted for Brownie
We are deeply sorry for your loss ~ the staff at Dignified Pet Services
Services for Brownie Men
There are no events scheduled. You can still show your support by planting a tree in memory of Brownie Men.
Plant a tree in memory of Brownie


Share Your Memory of
Brownie