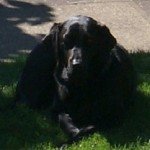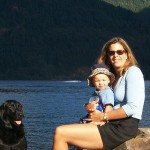 Obituary of JB Turkiewicz
JB was born in Estacada, Oregon on December 10, 1996. We chose JB over her puppy siblings because she was the toughest puppy of the litter while playing tug-of-war. She wasn't the biggest, but she was the strongest.
The full name of JB is Julia Brunette, Christel's great-grandmothers name. We thought we might name our puppy Reagan, and choose a male, but when we saw the size and ferociousness of JB's sire we promptly choose a female puppy.
We picked up JB in Estacada when she was twelve weeks old and brought her to our newly purchased home in the Westmoreland district of Portland, Oregon. The house and the puppy were a lot of work in the early years. JB would love to go for a walk in the late evening hours to expend the puppy energy. While doing so she would love to play fetch, or better said keep-away, with the neighbors' newspapers (they were made from trees and looked liked sticks, and they were in the box I came home in). The area turned out to be the perfect place to raise a "family dog" as there were many trails, parks, rivers, lakes (stocked with ducks to chase) nearby.
JB started out as the only child in the family. After a few years she was nudged out by Tristan, Trafford, and finally Blythe. She knew the new pecking order and was fine with it, as long as there were plenty of tennis balls to chase, mysterious food falling from highchairs, tables, and unsuspecting small children trying to eat hot dogs. Other than the single instance JB never snapped at a child (when Tristan was under a year old), she would put up with all sorts of tail pulling, ear twisting, and even the occasional child rodeo.
JB was not just a stay-at-home dog; she was a professional dog, walking to Michael's office in Sellwood, waiting all day for the short walk home and possible fallen goodies on the sidewalks in Westmoreland.
JB was an athlete, climbing up to Mt. Hood's Palmer Glacier from Timberline Lodge many times and chasing Michael down while he skied or snowboarded - two and a half hours up and fifteen minutes down. JB also climbed to the summit of Mt. Adams, over twelve thousand feet. The volcanic rock almost ruined her paws on the way down.
JB came from a strong bloodline of water retrievers, and it showed. When she was just a three months old, she chased a duck right into the lake at Westmoreland Park. She ran the first few feet and then promptly went straight under water. Frantically paddling with her front paws she pulled herself out and shook off. It was another week or two before she would get back in the water; it took Michael getting in the water, and Christel going to the other side of the river and calling her name, before she would swim again. Once she did, she was off for good.
She spent many mornings, days, and evenings fetching sticks, balls, and just about anything else in the Willamette and Columbia Rivers, Trillium, Frog and Collins Lakes, and the Pacific Ocean. She was most at home when in the water.
JB was a dry land dog, too. She spent many hours on trails running with Christel and Michael. It was a bit tiring when Christel would run in the morning and Michael in the evening of the same day. She put in many extra miles whenever Christel would train for a road race or triathlon.
In her later years JB mellowed and became smarter about her jaunts in the Eastmoreland district. Frequently Christel would get a call from the owner of the Eastmoreland Market, a few blocks away, stating JB was sitting at the front door waiting for dog biscuits. She also spent a long hours waiting for the kids to finish the school day at Holy Family.
JB was a great family dog that loved people and her family to her fullest ability. Her memories are strong with many people in and around Portland, from the mountains, through the city, to the coast.
To plant a beautiful memorial tree in memory of JB Turkiewicz, please visit our Tree Store
A Memorial Tree was planted for JB
We are deeply sorry for your loss ~ the staff at Dignified Pet Services
Services for JB Turkiewicz
There are no events scheduled. You can still show your support by planting a tree in memory of JB Turkiewicz.
Plant a tree in memory of JB