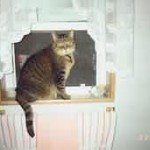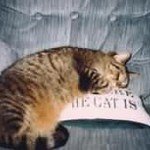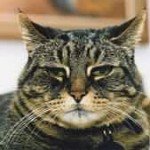 Obituary of Mr Grey
When we first met in September 1989 in Omak, Washington; you were just that grey kitty who belongs to the down stairs neighbor. I started leaving a bowl of dry cat food out for you because she never seemed to feed you or let you in the house. Then they took her away to a mental hospital and made no provisions for your care. So I started trying to make friends with you with only marginal success. There were already 4 cats in that little apartment, 2 of mine and 2 visiting with my parents for the winter. You managed to make friends with all of them eventually. And then came the November 1989 snowstorm. You stood on the roof of the carport next door, looking down over my café curtains and meowing loud enough to be heard over the storm. You demanded a warm dry place to sleep! I let you in the house and that started our path as friends. When I look back, it is hard to believe that it took me almost a year to get you to sleep inside, to trust me, to go for your first vet check-up. But a November snowstorm started your trust in me. When we finally got to the vet for that checkup, he wanted to know your name. Since you had always come when called "Grey Kitty", I decided to call you Mr. Grey, even though you are really a brown mackerel tabby. You deserved a formal name to go with your very dignified persona.
After about 18 months, the next job transfer came. What a dilemma! Should I try to move this almost-mine cat? Would you accept transplanting to another place? Would you accept the only place I could find to live that had no place for you to go outdoors? What to do? In the end, I just couldn't leave you behind! So off we went for the first of 12 moves in the next 12 years. You saw Washington, Nevada, California, and Oregon. You have always been a trooper and whenever I started packing boxes, you had to be in the middle of the process. It was like you were saying "Don't forget to take me with you"!
The joy of the last two years living in Beaverton with you has been great. There were trees outside every window, which meant birds and squirrels to watch. I am glad that we often took time to just go outside and walk in the yard together. You never lost that urge to be an outside kitty and would beg for the window to be opened so you could smell fresh air. I am grateful that we took time for a final walk two days ago. You had just had a cortisone shot and were feeling pretty good. We spent that time together enjoying a warm spring evening, smelling flowers, you eating grass, exploring the yard, and me talking to the neighbor. I will carry that memory of you with me always.
I will always remember your wonderful sweet personality and loud motor! Your purr was the best soother on stressful days and your husky voice demanding food woke me up like clockwork every morning. You are at peace now, and waiting for me to come so we can complete the journey over the Rainbow Bridge. I will see you again and keep you in my heart until we can be together. I love you, Mr. Grey! Be safe and be happy until we are together forever!
To plant a beautiful memorial tree in memory of Mr Grey, please visit our Tree Store
A Memorial Tree was planted for Mr
We are deeply sorry for your loss ~ the staff at Dignified Pet Services
Services for Mr Grey
There are no events scheduled. You can still show your support by planting a tree in memory of Mr Grey.
Plant a tree in memory of Mr