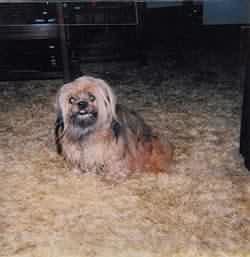 Obituary of Sweet Baby Girl Dog
It has been 20 plus years since I have seen your sweet face, held you in my arms, played with you or spoken with you. We had 13 wonderful years together and you made my life so happy and full that I never considered one day you would leave me. Then one day I was told you had cancer-the slow progressing type. I did not think I could cope. I could not imagine you gone from my life. But I would still have you at least a year or so I was told. But the doctor was wrong and I witnessed you slowly withdrawing from life-and from me. I could not let you suffer. It was the hardest decision I ever had to make in my life, but it was the compassionate thing to do. I was with you until the end then took you home for burial where I could talk to and visit you every day. I have NEVER in my life experienced such profound grief and sadness. It was prolonged. I was paralyzed with pain. I had lost my BEST friend and my ''Sweet Baby Girl''. Tears are falling now as I try to write this memorial to you. I hope I do your memory justice.
It took me 4 years before I was ready for another dog after the loss of the ''family'' dog, which was really mine. I searched for you a long time and wanted a dog that looked like him. There was a new breed called ''Peek-a-Poo'' and I figured they probably looked like my ''family'' dog. I was right. I found you in Salem. There were many to choose from, but when your big, soft, brown eyes met mine, I fell instantly in love with you!! I did not care if you were male or female. I picked you up and never let go of you. You were so small you fit in the cup of my hand. You never weighed over 10 pounds-even though you had a HEARTY appetite. Not for DOG food-it was yucky. Only people food for you. You even loved Coke and beer.
Everyone and I mean EVERYONE who met you LOVED you. Some took a look at you and thought, ''Oh, she has one of those yapping little heal nippers''. But you won over even THOSE doubters so quickly and easily with your friendly, outgoing, sweet and flirtatious personality. Friends and family never inquired just about me-it was always ''us'' as if we were connected, bonded together as one entity. I felt the same way. I did not think I would survive without you in my life. There were days I wish I hadn't. I'll be with you again one day.
I will love you always and forever my Sweet Baby.
To plant a beautiful memorial tree in memory of Sweet Baby Girl Dog, please visit our Tree Store
A Memorial Tree was planted for Sweet Baby Girl
We are deeply sorry for your loss ~ the staff at Dignified Pet Services


Share Your Memory of
Sweet Baby Girl