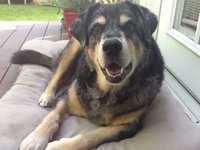 Blaze Tubbs
Blaze was a dog we rescued from the Human Society when he was 5 months old.
The kindest soul ever. Sweet and mellow.
He loved car rides, swimming, walks, camping, the beach, watching motocross racing and shopping at the Home Depot! :)
His secret desire was to find a kitty that would be willing to play with him! He knew where the cats in the neighborhood where living and every day he would be determined to pay them a visit! One of them would fall for his charms right?
His all time favorite snack after dinner was a dentastixs! Yogurt and a couple of potato chips where also high on his snack list.
He was a happy 90 pound hairy little fella who made us laugh and brought us joy!
I never could have imagined the emptiness he would leave in my heart and life after he passed away.
I am truly heartbroken.
Blaze thank you for 12 years of companionship and love!
You will be missed forever.
2001- June 17th 2013
Mona and Nick Tubbs