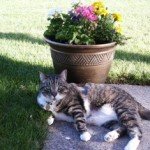 Stimpy Grigsby
Stimpy was picked from a pet store in Spearfish, SD when I was fresh out of college. For the next decade, Stimpy would follow me in my adventures from South Dakota to Portland, Oregon.
Stimpy was a cat's cat. He was a master stalker of prey..even though he was an indoor kitty and his prey consisted of feathers and shaker toys. Stimpy eventually convinced me that he truly wanted to be an outdoor kitty to stalk bigger game.
Some of Stimpy's favorite things were playing fetch with his mouse toy, eating grass, playing 'tent' under a blanket, newspaper, box, blueprints, and dinner time (breakfast, lunch, and snack time as well.)
I miss Stimpy's warm body curled up in a ball, keeping me warm on a cold night. I miss his soothing purr. I miss the 'thump' on the kitchen floor at night after searching for food on the countertop and his whiskers tickling my face until I awake in the early mornings to feed him.
More than just a simple pet, Stimpy reminded us of patience, responsibility, sorrow, happiness, laughter, empathy, and unconditional love.
Stimpy was loved by all and will be in our hearts forever.
Take care, Stimpy...until we meet again