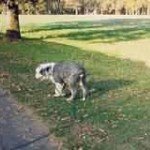 Winston "Winnie" Churchill
I first met Winston when I picked him up from the Hancock County Humane Society, Mississippi in April of 1990. I had called about an Old English Sheepdog whose picture I saw in the newspaper and who was available for adoption. By the time I called, that dog was gone, but they told me they had just gotten another Old English Sheepdog, a three-year-old male. I went over to pick him up and fell in love with him at first sight.
He was a great companion who loyally waited for me every day. It's impossible to say how much he enhanced my life in the more than ten years he was with me. Typical of Old English Sheepdogs, he was intelligent, gregarious, and independent. He stayed a big puppy pretty much to the end. Despite his tremendous tolerance, I think he did have a disappointment in life - that he wasn't born a lap dog!